I should of course mention that I've done a rather fun
interview on Fridae
with the awesome HIV epidemiologist
Elizabeth Pisani
, whom I met at the Makassar International Writers Festival. It's been getting quite a number of comments (much more so than my usual humdrum articles about the arts in Singapore), and the even haters are terribly amusing to read.
But, on to literary matters! My first
IndigNation
event's coming up this Friday!
Gaily Ever After: Our Very Own Fairy Tales
Fri 17 Aug, 8pm, BooksActually (9 Yong Siak Street)
Sit down for an evening of storytelling with four Singaporean writers, each bearing a fairy tale with a gay twist. Featuring Ng Yi-Sheng, Cyril Wong, Tania de Rozario and Anila Angin.
I'm pretty happy about this event, since it's really my brainchild: just happened that I knew quite a few queer fairy tales had been written, so we're binding them together. I think it'll be fun.
If you want to know about the IndigNation Festival in general, here's the full calendar (
text version here
):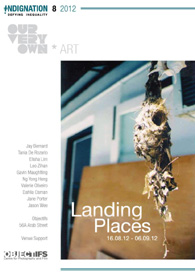 Landing Places: Our Very Own Art
Thu 16 Aug
, 7pm, Objectifs (56A Arab Street); exhibition runs till 6 Sep
Landing Places is a Singapore-based, multidisciplinary exhibition happening in conjunction with IndigNation 2012. It features work by 10 queer artists and seeks to document experiences of how our sexualities affect the ways in which we define, create, articulate, question, reject and/or relate to notions of home. The exhibition will comprise drawing, painting, photography, collage, and animation.
Are You GAYme Enough? 2: Our Very Own Gameshow
Fri 17 Aug
, 9.30pm, Play (21 Tanjong Pagar Road)
Oogachaga brings back the popular 'Are You GAYme Enough?', and this year's edition promises to be bigger, better and raunchier! Watch the contestants battle it out on stage as they get quizzed on topics ranging from sexuality and sexual health to local LGBT history and culture. Join in the fun by assisting (or sabotaging) the contestants when they use the 'audience card' or the 'helpline card'. We're not sure if it'll be the survival of the smartest or the cutest – what we do know is that one very GAYme champion will walk away with grand prize worth $3000! First 100 audience members get free entry and a standard housepour! To join as a contestant, simply register at
http://tinyurl.com/OCGayme
Register before 12pm, 10 August 2012. Like us on Facebook at
http://tinyurl.com/OCGayme
and stand to win a pair of tickets to Toy Factory Productions' Purple! Hurry, contest ends on 27 July, at 12 noon.
Our Very Own Stories
Fri 24 Aug
, 8pm, The Factory (22 Lim Tua Tow Road); exhibition runs till 7 Sep
Our Very Own Stories showcases real Singaporean LGBT people who have struggled and triumphed against the challenges of self-worth and discrimination. Curated by Nicholas Deroose, this collaboration between five community photographers seeks to give hope to a future generation and show them a possible future beyond the adversities that they face today.
ContraDiction 8: Our Very Own Literature
Sat 25 Aug
, 7.30pm, The Reading Room (21 Tanjong Pagar Road, #04-01 – former Mox Bar)
Our annual queer literary evening is back, with a new focus! Listen to some of Singapore's oldest works of queer literature from the 1980s, as well as works by our youngest writers from the 2010s. Featuring Ovidia Yu, Joel Tan, NUS Poet-in-Residence Jay Bernard and many more.