Call for submissions for ASYMPTOTE: a new international journal of literary translation
My friend's setting up a new journal of translation called Asymptote! (Yeah, I was originally drama editor, but I couldn't commit the time. It's still an important effort.)

It's founded by multi-genre polyglot Singaporean writer
Lee Yew Leong
, but we've got other editors based in Germany and the USA. Our first issue is coming out in
Jan 2011.
If you're a writer in a non-English language or a translator of non-English literature into English, we'd love to see your work. The deadline for submissions is
20 December 2010
and the guidelines are
here
.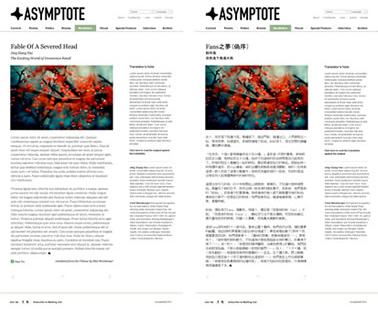 Some very cool international writers have already agreed to be featured in the Jan 2011 edition. We'll be featuring:
- a dispatch from Afghanistan about the plight of women in the context of the ongoing war
- an essay from Japan comparing "Literature and Mathematics" (which we thought apropos for the launch issue of a magazine called Asymptote)
- a group of poems by Melih Cevdet Anday, writing in the manner of a famous 17th century folk poet, translated from the Turkish by Sidney Wade and Efe Murad
- an interview with the award-winning lyricist who not only brought the 2010 World Cup song into Mandarin but has done some amazing (literary) things across Mandarin and Cantonese as well.
-excerpts from Singaporean playwright Alfian Sa'at's "Nadirah", last year's prizewinning script at the Life! Theatre Awards.
Hope to read your stuff on the site soon!